Last month, for our 40th anniversary, we celebrated our nurses who continue to heal the world. This month we are featuring our internal employees and the integral part they have played during their time at Favorite!
Meet this month's next #FavoriteFamilyFeature! Shane has been working with Favorite for two and a half years. His current role is the Senior Recruiter with our Chicago office. He loves getting to work with a team to develop client relationships and assist healthcare professionals in landing amazing travel contracts and per diem opportunities! Most recently, Shane has been working out of our corporate offices in Kansas City and focuses on account management for state-level crisis assignments.
Have you had any other roles at Favorite? Please describe the path you took to get where you are now.
I am grateful that in my time with Favorite I have been able to wear many hats! When I first started in the Chicago Hub, I was a New Hire Representative and fell in love with connecting with potential new staff and seeing their journey with Favorite. I quickly transitioned into a full desk recruiter where I focused on placing healthcare professionals on contracts while developing new businesses. With a lot of hard work and some motivation from the team, I was then promoted to Senior Recruiter! Since March 2020, I "hit the road" with Favorite and was able to work onsite with our Healthcare Professionals for HUGE projects in alternate care facilities, developmental centers, hospitals, correctional facilities, and testing sites. Since then, I have stayed in over 15+ hotels in a few different states and have cherished every minute of it! Currently, I am working in our corporate office in Kansas City where I focus on account management for state-level crisis assignments!
What, or who contributed to your decision to work at Favorite?
I am a firm believer that surrounding myself with the right people can drastically affect my day, my week, my year, and even help to shape my life! Ultimately, therefore I decided to become part of the Favorite Family. I had such great conversations with quite a few people from Favorite before committing and I could sense that the passion, dedication, support, and positivity that radiated from the phone calls and the office.
What is it like working at Favorite?
This is very cliché, but working at Favorite means that you get to work hard AND play hard!
What is the most rewarding aspect of your job?
Working in recruitment is very fast-paced and it can be easy to get caught up in all the craziness and stress! The most rewarding part of this job is the moments that remind me to slow down and embrace why I took this job in the first place – to help people! Nothing feels better than talking to a nurse who is excited to share stories with you or when a client thanks you for helping get them through a hard time. It is so rewarding to know that every day I can make a difference in some way, no matter how big or small!
How do you think your role at Favorite makes a difference within the company and the healthcare industry as a whole?
My role at Favorite as a recruiter makes a difference as we get to build relationships with the most important players in the game – healthcare professionals! I have gotten to know a lot of healthcare professionals very well. I can understand their aspirations, what they like in assignments, and what they don't, and I can advocate for them! This is valuable to Favorite as Favorite genuinely wants to ensure the staff has the best experiences. Whenever the healthcare professionals are fully supported, this helps ensure success at Favorite and within the healthcare industry in general!
What lessons have you learned while working in the healthcare industry during COVID19, either personally or professionally?
Working in the healthcare industry during a global pandemic is nothing short of exhausting. Some lessons I've learned along the way since include:
No matter how busy you are, make time for self-care, exercise, and family/friends.
The importance of checking in on people who have been working on the front line.
Masks can not only help keep you safe but can also make great fashion statements and keep you pretty warm in the wintertime!
I am capable of so many more things than I originally thought. I have been put in many tough and uncomfortable situations during the pandemic and as a result, I was able to grow professionally and personally.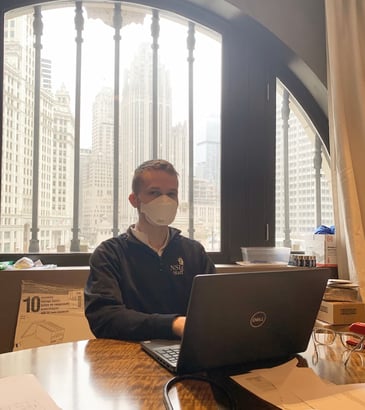 What keeps you motivated when times are tough?
My support network, both personal and professional, is what keeps me most motivated, especially during tough times!
Tell us what makes you unique! What do you enjoy doing outside of work? Any hobbies or interests?
In my free time, you can find me biking in Chicago, playing beach volleyball, scoping out the newest or best coffee shops and restaurants, and spending quality time with my friends/family! I love being spontaneous and exploring new places and having new experiences. One thing on my bucket list is to build a mobile tiny home and travel the entire country in it!
How would you describe your team?
My team is passionate, determined, supportive, and a whole lot of fun!
What is one of your favorite memories while working at Favorite?
My favorite memory while working with Favorite is getting to travel alongside the healthcare professionals and assisting in state-level operations during the pandemic! I will always remember the people I met, all the new places I went, and my experiences visiting alternate care sites, correctional systems and helping to set up staffing for testing sites! It is so humbling to partake in something that is so much bigger than yourself and helping to fight Covid with Favorite will be unforgettable!
Want to learn more about our job opportunities? Stay updated with our healthcare blog, and make sure to check back next week for another Favorite Family Feature! We will spotlight our internal employees all month long!
To join the #FavoriteFamily follow us on Facebook, Instagram, LinkedIn, and Twitter!