As we continue Favorite Healthcare Staffing's 40th anniversary celebrations, we are excited to feature our branch, corporate and temporary staff and recognize their efforts and achievements. Our employees are an integral part of the #FavoriteFamily and we are excited to highlight these amazing individuals and all they have accomplished.
Meet this month's next #FavoriteFamilyFeature! John is the Branch Director of Colorado. He has been with Favorite since 2007 and has loved it ever since. Keep reading to learn more about his journey at Favorite!
What is your current role and title at the company? Describe your duties/responsibilities.
I am the Branch Director for the State of Colorado, but also currently reaching into Wyoming. I strive to inspire and lead my team of dedicated recruiters to bring my clients the best service possible when requesting agency assistance. I also facilitate current and ongoing client relationships while developing a new client base throughout the region.
Have you had any other roles at Favorite? Please describe the path you took to get where you are now.
I've worn many hats here at Favorite and they've all helped develop me! I was hired back in 2007 as part of our National Operations Center (NOC). I loved working nights, evenings, weekends – whatever was needed. I did not have money in college and it was a decent-paying job. I never thought this would lead me to where I am today!
From the NOC, I was welcomed back from Spain in 2009 and took a position in another division. Eventually, the mountains called and I wanted to move to Colorado. I took a position with the Favorite Managed Services (FMS) crew in Colorado where I worked for the next five and a half years.
In 2015, I had my first child and we decided to move back to Kansas City where the FMS team graciously kept finding me positions. Then in 2018, I accepted the Director position for the Colorado branch. History continues to be written!
What, or who, contributed to your decision to work at Favorite?
The list would be too large. When I say it is like a family working at Favorite, know I mean it. Everyone from the top down in this organization is why I continue to work here and love it! I do give a special shout-out to Deb, Ashley, and Paul. Their leadership and inspiration are what inspired me and still drive me to be my best today.
What is it like working at Favorite?
Being in the position I am now with the team I have here with me is a blessing! When you love what you do, it is easy!
What is the most rewarding aspect of your job?
The most rewarding aspect of my job is knowing that at the end of the day we are helping people. Whether it is a client or a job seeker, we are helping them fulfill a need they have. When you make someone's day, that fills my cup!
How do you think your role at Favorite makes a difference within the company and the healthcare industry as a whole?
Before this pandemic it was easier to fall into the day-to-day of staffing, filling a need, moving forward through the day, and not really feeling the difference being made with your clients or healthcare professionals. Now it's different, especially for the clients that are requesting help due to the pandemic.
You want to put in the extra work to ensure hospitals have enough staff and their staff is getting ample rest. You do not mind the late-night calls or weekends, whatever it takes to get your nursing home help to cover their requests because staff are out sick, or COVID is spreading through their facility. I know my team is making a difference out here every day!!
What keeps you motivated when times are tough?
The drive to be the best man I can be in my life, work, and in my mental and physical health. Understanding that this tough moment in time will hopefully be short-lived and we will make it through to the other side.
Tell us what makes you unique! What do you enjoy doing outside of work? Any hobbies or interests?
I love the outdoors and love to travel. I can't travel much lately so we have been doing a lot of boating. Hobbies include water skiing, wake surfing, biking, snowboarding, hiking, and of course traveling!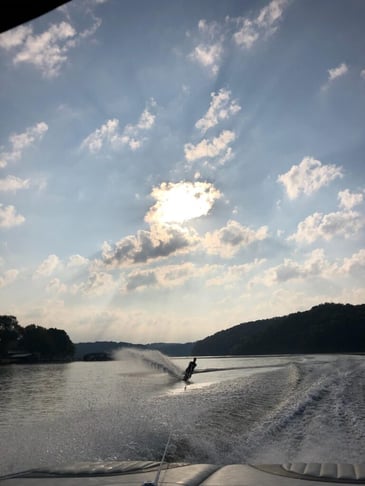 How would you describe your team?
They are rock stars in what they do, and I would be lost without them! I love that we are all dynamically different in our own ways and have our own ideas but share one common goal. They kick some serious butt out here and are heroes in my eyes.
What is one of your favorite memories while working at Favorite?
Way too many great memories here, but the last in-person National Sales Meeting really stands out!

Are you looking for a healthcare staffing agency to help make your dream job a reality? Favorite Healthcare Staffing places healthcare professionals in jobs across the country. Start exploring today!
If you want to learn more about our healthcare job opportunities, keep in touch with Favorite by following our healthcare blog and connect with us on Facebook, Instagram, LinkedIn, and Twitter! Make sure to check back next week for another Favorite Family Feature!