Did you know that the healthcare field is expected to face a nursing shortage? The Bureau of Labor Statistics projects that there will be over 200,000 openings for RNs each year through 2031, many of these openings will result from the need to replace nurses who retire. According to the U.S. Census Bureau, "by 2034 there will be 77 million people age 65 years and older compared to 76.5 million under the age of 18," making it the first time in U.S. history where older people are projected to outnumber children. With the aging population and increased need for geriatric care, it's essential for the younger generation to get hands-on experience and explore jobs in the healthcare field.
By attending career fairs and summer nursing camps, the children and teenagers can gain valuable insight into the world of healthcare and potentially pave the way for their future careers. By 2030, over a million nurses will have retired, and with the right tools we can help inspire future healthcare professionals.
Healthcare Job Fairs
Exploring healthcare careers can be an exciting and educational experience, especially when attending healthcare job fairs. Kelly Grebe, Colorado Director of Business Development, recently attended the "Get into the Guts of Healthcare" career event hosted by the Northern Colorado Health Sector Partnership. During the event, 8th grade students had the opportunity to explore careers in medicine and immerse themselves in the world of healthcare.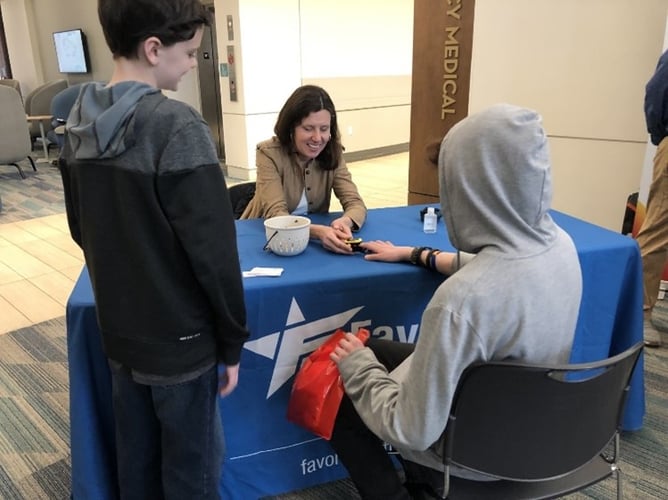 Kelly Grebe, Director of Business Development – Colorado
We asked Kelly why events like this can provide value to the younger generation and she said, "I think it's important for kids to begin exploring all career possibilities at an early age, educating themselves about different paths they can take that align with their skills and their values."
At the event, students participated in interactive healthcare learning opportunities hosted by industry partners such as Favorite Healthcare Staffing's Colorado Branch. With events like these, career fairs provide a unique opportunity to gain valuable insight and education in the healthcare field. Kelly says, "I think events like an interactive career fair give kids the knowledge and hands on experience to motivate them and grow their confidence. It demystifies the work and hopefully helps them realize that they can do the work."
Kelly described her time at the career fair as rewarding. "I had students come through in small groups and I shared information about Favorite and the possibilities for travel healthcare positions. It was interactive, so I worked with the kids on using a pulse oxygen machine and then had them do brief deep breathing exercises to see if they could change their heart rate or oxygen level. The kids loved it."
Summer Nursing Camps and Healthcare Programs
Another great way to experience the healthcare field is through attending summer nursing camps. These immersive programs offer hands-on experiences designed to equip students with the skills necessary to provide top-notch patient care, practice in state-of-the-art simulation labs, and even get CPR certified. Just ask Carter, a University of Texas at Austin student whose time at Ascension Seton Medical Camp set him on the path to a job in the healthcare field.
Corey Shepard, Carter's mom and Senior Vice President at Favorite, noted that attending this summer camp "drove Carter's passion to help others and pursue a career in nursing. After nursing school, his plans are to pursue a CRNA (Nurse Anesthetist) path." Corey also emphasized the importance of these programs, noting that they give students invaluable real-life experience and a leg up in competitive healthcare programs. "These programs provide a great hands-on experience and give insight on what your future career feels like and validate the path you want to pursue," Corey said. As you explore summer nursing camp options, keep in mind that they fill up fast - so start doing your research early on!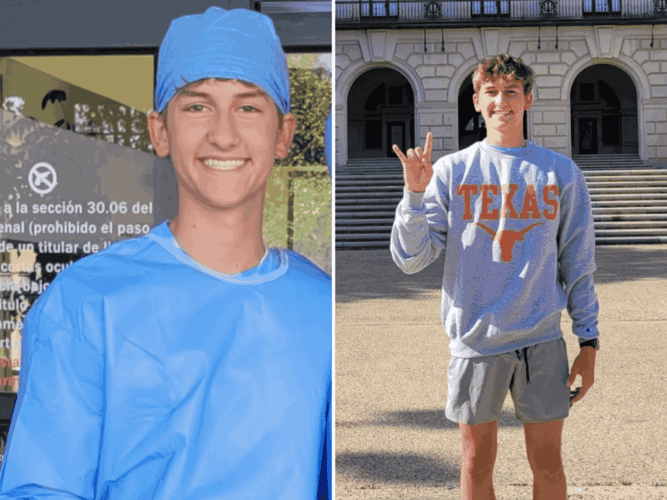 Carter, University of Texas at Austin Student
Below we've compiled a list of camps that offer a wide range of educational opportunities. From traditional classroom learning to interactive healthcare simulations, there's something for every student. Explore the possibilities and find the perfect program for your future healthcare professional today!
Summer Nursing Camps
B.E.S.T. Summer Medical Academy
Location: Tampa, FL
Enrollment Dates: Jan 16-March 6
Program Duration/Dates: 2-day camp, June 4 - June 5
Level: High school, 10th-12th grade
Estimated Cost: $750-$1,250
The B.E.S.T. Summer Medical Academy gives students the opportunity to get hands-on experience in a variety of medical related fields such as learning medical procedures, watching surgeries, shadowing health professionals, volunteering in hospitals, interacting with patients and more. Included in the cost of the camp, attendees will be provided with a set of B.E.S.T scrubs, a medical kit, B.E.S.T source book and a B.E.S.T t-shirt. Although the registration period for this camp has passed, be sure to keep it on your radar for next year!
National Student Leadership Conference on Nursing
Location: Washington DC
Enrollment Dates: Contact the NSLC for more details
Program Duration/Dates: June 17 - June 25, June 29 - July 7, July 11 - July 19 & July 23 - July 31
Level: High school, 9th-12th grade
Estimated Cost: $3,795
The National Student Leadership Conference focuses on patient care and provides students with the tools necessary to provide high quality patient care and a hands-on experience to different challenges that nurses face daily. Students will also get to learn from leaders in the healthcare community through exclusive guest speakers. Unique to the National Student Leadership Conference, students can earn college credit by enrolling in supplemental online courses. Program tuition includes housing, all on-campus meals, course materials, academic expenses, and activities. Tuition also includes chartered, air-conditioned motor coaches for off-campus briefings and tours.
High School Nurse Camp by Liberty University
Location: Lynchburg, Virginia
Enrollment Dates: Registration opens March 1st
Program Duration/Dates: 3-day camp
Level: High school
Estimated Cost: $300
This High School Nurse Camp hosted by Liberty University provides students with the ultimate opportunity to experience nursing through a biblical worldview. Attendees will be presented with hands-on learning experiences in the School of Nursing Simulation Center. The cost of tuition includes daily meals, camp scrubs, a stethoscope and a camp shirt.
Introduction to Nursing Program by Adelphi University
Location: Garden City, New York
Enrollment: Closes May 31, 2023, at 4:30
Program Duration/Dates: July 9-July 29, 2023
Level: High school
Estimated Cost: $3,000-$5,200
Students will examine and consider the profession of nursing and the various roles of a Registered Nurse. Attendees will participate in educational simulation experiences in a state-of-the-art Clinical Education and Simulation lab, understand different areas of clinical expertise and earn CPR certification from the American Heart Association. This will aid the students in exploring the importance of professional values and ethical behavior, the nurse-patient relationship, critical thinking and reasoning, as well as communication with patients and healthcare professionals.
Summer Nursing Camp by Oklahoma City University
Location: Oklahoma City, Oklahoma
Enrollment: Closes May 6, 2023
Program Duration/Dates: June 28-30
Level: High school
Estimated Cost: Contact OKCU for more details
Camp Kramer Way is an opportunity for high school students who are interested in nursing to experience realistic patient-care scenarios. This camp fosters a learning environment where students are challenged to think critically and holistically. Attendance is free for up to 20 students and camp participants will stay two nights in the university's housing facilities where all meals are included free of charge.
HEALERS by UAMS Health
Location: Little Rock, Arkansas
Enrollment: Closes March 31, 2023
Program Duration/Dates: June 5 – June 16
Level: High school, 11th-12th grade
Estimated Cost: Contact UAMS Health for more details
This program allows students to ask questions about a variety of medical careers directly from professionals in the field to potentially jumpstart their career in medicine. Students will also learn how to administer first aid, Basic Life Support, demonstrate a better understanding of medical terminology, demonstrate increased awareness of health issues and gain experience in a clinical setting. Although this year's registration has closed, mark your calendars and prepare for next year's camp experience!
Arkansas Children's Hospital Junior Volunteer Program
Location: Little Rock, Arkansas
Enrollment: Closes April 7th, 2023
Program Duration/Dates: June 12-23, July 10-21
Level: High school, 9th-12th grade
Estimated Cost: Contact Arkansas Children's Hospital for more details
Students can also choose to volunteer their time at local hospitals to gain real life experience in the healthcare field. Arkansas Children's Hospital offers a junior volunteer program for high school students aged 14-18 to support their mission of making children better today and healthier tomorrow. Volunteers should be interested in entering the healthcare field and willing to have a hands-on learning experience. This year, they are also offering a summer program which will provide students with getting immersed in various hospital settings, all with the common goal of improving the patients and family experience and engaging young adults with the opportunities in healthcare. Although enrollment for the summer program has closed, Arkansas Children's Hospital also has a year-round volunteer program.
Keep in mind that there are many programs and volunteer opportunities to choose from that will help inspire future nurses and healthcare professionals! A good starting point would be to check with your local colleges, universities and hospitals to see what programs are available.
Due to the nursing crisis, the rise in demand for healthcare professionals has created a need for qualified and well-trained individuals. Attending healthcare job fairs and summer nursing camps can offer the younger generation valuable insight into the different aspects of healthcare. With the knowledge and skills obtained from these programs, young adults can be inspired and better prepared to take on future roles needed in the healthcare field.
With hundreds of job openings available nationwide, Favorite can help find you the perfect position. Get started by searching our current job openings and connect with a recruiter today!