As temperatures start to drop, you might be planning out your next travel nurse destination. Whether you love the cold weather or you're trying to stay far away from it, we're covering all the bases on where to travel, what to do and what to pack. From the snowy mountains of Colorado to the heat of Arizona, we're giving you the best travel nurse locations to visit this winter.
Top Travel Nurse Destinations This Winter
Embrace the Cold in Colorado and Minnesota
Visit Colorado for your one-stop ski and snowboarding destination. With various resorts to choose from, you're sure to find one that suits your needs. Mount Princeton Hot Springs is an all-around resort that encompasses several activities in one location. The resort offers a spa, juice bar, hiking trails, lodging and more. If you're looking to go beyond the slopes, Colorado also offers other unique activities. Take a dip in one of the state's many hot springs, hit the ice-skating rinks, go ice fishing, or speed down the trails while dog sledding. These activities make travel nursing in Colorado the perfect option during those chilly months!
If you're visiting Minnesota, be prepared to brave the cold temperatures. Whether you're a fan of indoor or outdoor activities, this state has options for both, making travel nurse jobs in Minnesota popular all year round. If you're interested in doing something adventurous outdoors, check out ice climbing. Ice climbing is the equivalent to rock climbing, except you'll be scaling frozen waterfalls! Other outdoor activities include visiting the ice castles and trailing the slopes while snowmobiling or snowshoeing.
On the other hand, if you want to stay warm and cozy indoors but still want to explore all Minnesota and Colorado has to offer, there are a few options. If you're in Minnesota, you can take a trip to the Mall of America or make a few pitstops at the history and art museums. The Minneapolis Institute of Art is the perfect spot if you're on a budget. They offer free general admission, and their gallery features over 80,000 pieces of different artwork to enjoy. In the heart of downtown St. Paul is another great museum to visit, the Science Museum of Minnesota. Here you'll get an out-of-this-world experience with various exhibits ranging from dinosaurs, fossils, outer space and nature.
If you're visiting Colorado and are in the mood to go stargazing but don't want to be outside, then the Fiske Planetarium is perfect for you. They put on laser shows, space odysseys, and feature a star ball with a display of over 20 million stars. You can also dive into Colorado's past by visiting the History Colorado Center. They rotate their exhibits to display different pieces of history, so you're sure to find something that suits your interest.
Escape the Cold in Arizona and Texas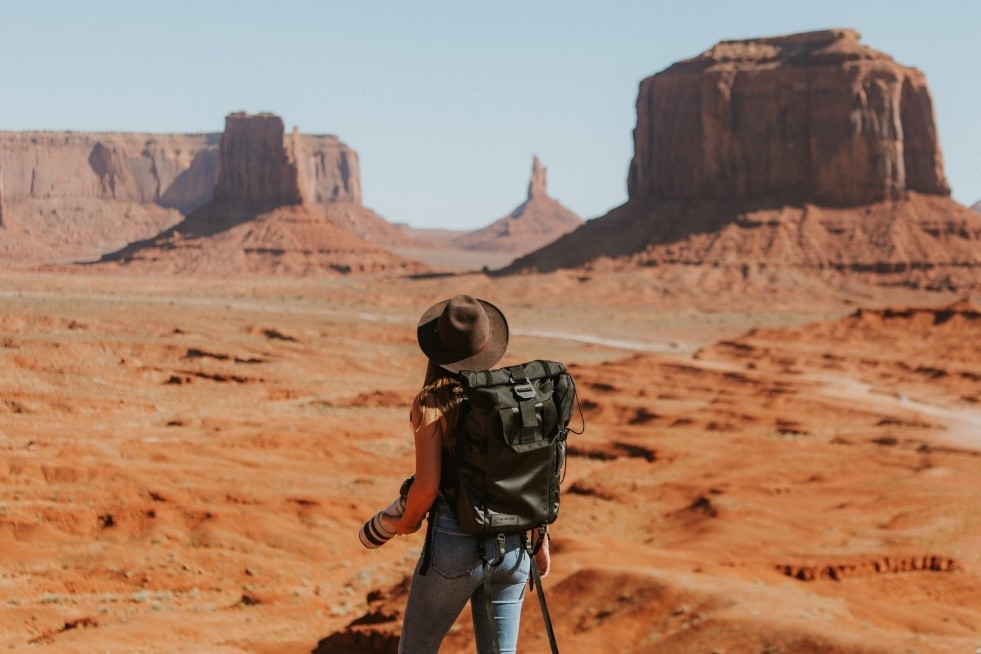 Not a fan of winter weather? Escape the cold and take a trip to Arizona or Texas to embrace the warm rays. Over the summer, Arizona and Texas temps can reach scorching levels, but during the winter months it cools down just enough to still enjoy the beauty of the state.
For the traveler who wants to take the scenic route, Arizona brings you some of the best hiking trails and botanical gardens. Some of the top trails to hike with a range of difficulty include Double Butte Loop, Pinnacle Peak and Echo Canyon Trail. You'll find some of the most breathtaking views on these trails, so don't miss out.
If you're looking to get into the holiday mood, there are other attractions in Arizona that allow you to indulge in seasonal activities, like the World of Illumination, ZooLights, Glendale Glitters, and ice skating at Salt River Fields. Ready to ring in the new year? You're in luck because there are celebrations on every corner throughout Arizona. Take part in a Flagstaff tradition as they put on their annual Pinecone Drop followed by a fireworks display to celebrate the new year. For Great Gatsby fans, be sure to drop by the Renaissance Phoenix Downtown Hotel for a Gatsby style NYE celebration filled with music, food and drinks.
Although the weather will be cooler in Arizona during the winter, don't forget to stay hydrated and keep your body moisturized. The dry weather can be brutal for your body, so it's important to stay hydrated and healthy. Travel nursing in Arizona is a great option for those looking to stay warm this winter!
Looking for a bit of variety? Travel nurses in Texas can experience a range of both winter and summer-like activities. If you want to take a trip to the beach, Galveston is the perfect place to be. The Galveston Pier hosts all kinds of holiday events during the winter so you can enjoy the beachfront while still getting festive.
If you're heading to San Antonio, take a stroll down the San Antonio Riverwalk as they display an array of Christmas lights to enjoy. You can even rent a kayak for a unique viewpoint of the lights from the river! If you're looking for a more adventurous getaway while visiting Texas, stop by Big Bend National Park. Whether you want to hike, mountain bike or just explore, this is the place for you.
Packing the Essentials
If you're new to traveling in lower temperatures, you'll want to be sure to pack the essentials to stay prepared under different circumstances. There are a few tips to keep in mind that will come in handy when you're preparing for your travel nurse assignment. Our first tip is to pack clothing that you can layer, like thermals, t-shirts, sweaters, leggings and pants. Packing only bulky items will take up a lot of space and won't allow you to wear multiple layers. You'll also want to be sure to bring a pair of gloves, a hat and scarf. These basics will help you stay warm while travel nursing in locations like Colorado and Minnesota.
When traveling to places like Arizona and Texas this winter, you'll want to pack a variety of clothes as you may experience both warm and cooler temperatures. Layering will be your best friend as the mornings and evenings tend to be cooler. A light jacket or hoodie is perfect for this type of weather!
No matter what type of climate you're traveling in, it's always a good idea to have an emergency kit on hand. You can pack it in your luggage or keep it with you in your car. Some items to include are a first aid kit, flashlight, phone charger, water, snacks and a blanket. Packing these essentials will help you stay prepared this winter as you travel to your next travel assignment.
Make the most of this holiday season by visiting one of these top travel nurse locations. Whether you want to embrace the snow in Colorado and Minnesota or soak up the sun in Arizona and Texas, there are unique options for every travel nurse!
What are your favorite travel nurse locations in the winter? Do you prefer to embrace the cold or escape the cold? Let us know in the comments below and take a look at our open travel nursing jobs to start exploring with Favorite today!
---
You May Also Like:
The Best Place for Travel Nurses
5 Ways to Become a Successful Travel Nurse