Each month, the Favorite Travel team will choose a Travel RN to be featured as our "Travel Nurse of the Month." We will share photos and our Q & A sessions to help others get an inside look at the life of a Favorite Travel Nurse! Keep reading to learn more about this month's pick and search for our nationwide travel nursing opportunities.
Meet our August Travel Nurse of the Month, Rahmatu!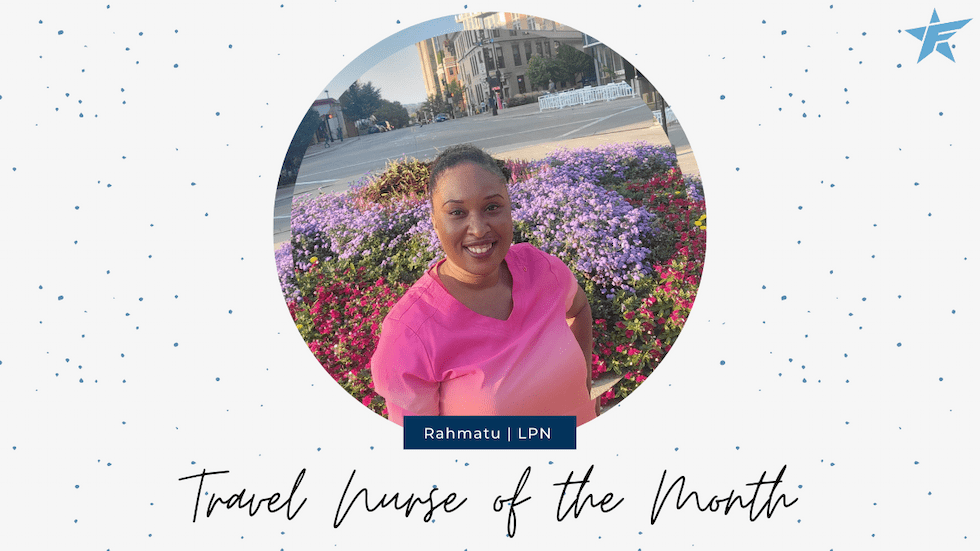 Who or what inspired you to pursue your profession?
My Great Aunt and my mother!
What made you go into travel nursing?
I wanted to be a helping hand and make a positive impact while exploring this green beautiful world.
What has been your favorite location for travel nursing so far and why?
So far, my favorite location was in the mountains. The views were breathtaking. Seeing the sunrise above the mountains from my room window was pure simplicity and beautifully created.
What is your favorite thing about travel nursing?
Meeting different people, experiencing different types of environments, and hearing the stories of people's lives and their journeys brings a smile to my face. Jumping in, helping, and the excitement of the unknown brings a thrill of knowing that today I am going to make it a point to be a positive energy in someone's life.
What is one thing you cannot live without while traveling?
Making sure my hair is done. I always travel with my hair food. My hair is part of my strength and therefore I must always take care of it.
What advice can you give others who are interested in travel nursing?
You will never know unless you try. Don't be afraid because you have more to gain than lose. It's wonderful, enriching, and very rewarding.
What are the biggest lessons you have learned while working during the COVID-19 pandemic?
Personally, and professionally, I want to help more, do more, and educate more. I want to be a beacon of hope, comfort, and faith for those who have lost it all or are exhausted from the harshness of COVID-19. The pandemic was something none of us would have expected but together we are fighting with all our might. To my fellow professionals out there, be a cheerful cheerleader and be ready to tap in. Most of all, I have learned to smile more, say I love you more, and more importantly, be more grateful for the smallest things that help me and those around me be a better person.
Tell us what makes you unique! What do you enjoy doing outside of work? Any hobbies or interests?
I am a confident, extremely hardworking, goofy, quirky, short, living my best life, no-nonsense, Sagittarius Nurse! I love to fish, pet my chickens, explore the world with my family and friends, and cruise!
If you have any other thoughts or messages for fellow healthcare heroes, share them here!
Thanks for all that you do because without you there will be no tomorrow. You are super strong heroes with enormous hearts. Thanks for leaving a positive Carbon footprint.
Travel Nursing and Why You Should Do It!
Travel nursing delivers a world of opportunities for nurses who are looking to expand their horizons. Start with researching where you want to go and then connect with a Favorite Recruiter. We are standing by to help you find a travel nursing opportunity perfect for you!
Join Favorite, a travel nursing agency, and become a travel LPN or RN! Keep an eye on our healthcare blog for more news and updates. Make sure to also follow Favorite on Facebook, LinkedIn, Twitter, and Instagram!