Meet our next Allied Traveler of the Month, Lisa, Certified Surgical Technologist!

Have you ever been interested in traveling the country as an allied health professional? Keep reading to learn more about Lisa's experience with traveling and search our travel allied opportunities!
Who or what inspired you to pursue your profession?
My mom is my inspiration in my career. She is a Transplant Coordinator who works so hard and loves her job.
What has been your favorite assignment location so far?
Lee's Summit, Missouri has been my favorite location so far! I love the people I work with and the surgeons are amazing. They are like my family. I love them.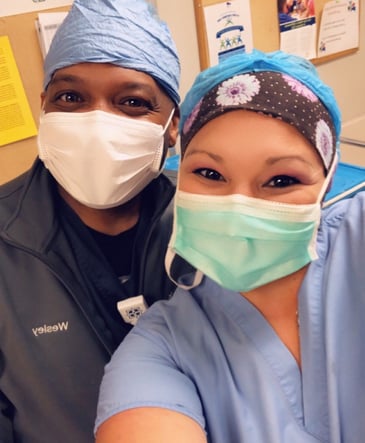 What is your favorite thing about traveling as an Allied Health Professional?
I love that I am not stuck at one place! I get to meet new people and I learn all the different ways of doing things. I learn something new every day with my job.
What is one thing you can't live without while traveling?
I have to have my compression socks and my water bottle for work!
What advice can you give other Allied professionals who are interested in travel contracts?
You just need to try it at least once! It's not for everyone but the perks outweigh the negatives. Traveling around is also awesome if you're local!
What are the biggest lessons you've learned while working during the COVID-19 pandemic, personally or professionally?
COVID in generally has not been easy for anyone. It's important to work through it and stay as positive as you can!