To continue the celebration of our amazing National Operations Center (NOC) who keep our agency open 24/7, we are highlighting another Staffing Specialist, Jessica Bachkora. Jessica has worked with Favorite since April and we are so lucky to have her on our team! Read our Q & A session below to learn more about Jessica.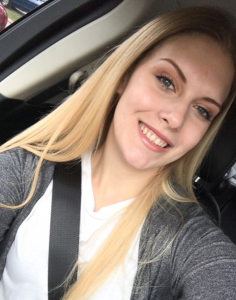 What are some of your duties as a Staffing Specialist?
My duties are customer service and "first avail," which means if anyone else is busy, I will take the first call.
What is your favorite part of your job?
Working on the weekends because everyone is high energy, it's like nothing I've ever had before. It's a more stressful shift but our high energies make it not as bad and more fun.
What's your favorite part about working in the NOC?
Definitely the people. I'm always happy to be here and I love coming into work and being with the people on my team.
How would you describe your team?
My team is amazing! I get to see and work with my sister, Brandi, which is really great.
When do you feel most accomplished?
I feel accomplished when I hit my own goals, but I also like making the branches' lives easier. It makes me really happy when I can help them out. I've become "their person" and they know they can trust me with their branches when they're gone.
What's the one thing you can't live without while on shift?
A pen and Starbucks. My favorite drink is the white chocolate mocha and salted caramel mocha.