Here at Favorite, we are excited to recognize and celebrate the achievements of our very own HR team. Our HR department is comprised of talented individuals who help our employees reach their full potential every day. We are so appreciative of all their hard work and the dedication they commit to Favorite!
Now, you may be wondering what employees within an HR department do, but before we dive into the details about each role, we asked Kristel Haynes, Director of Human Resources at Favorite, what she loves most about her team. Here's what she had to say: "My team is made up of incredible individuals that bring years of experience to the table. Collectively, we are a team in the true sense of the word. We work together, support and encourage one another, have each other's back, and work hard to be the support to Favorite that we know is needed."
Keep reading to find out more about each role within the HR department and why our employees love what they do!
HR Generalists
An HR Generalist is the broadest role in our HR department. They specialize in a range of work such as hiring, benefits, and employee relations. Here at Favorite, this role is comprised of five team members. HR Generalist, Sierra, says, "I love that my team is so cohesive. We are all very interested in learning and helping each other become experts in various areas. As a group, our goal is to continuously learn how to better our processes and our interactions to more strongly impact our organization."
We asked another team member, Sherri, what led her into HR and she said, "I wanted to make a difference in people's lives while at work. HR is a place where you can help people and implement change for the better. It's a place people can feel safe going to when they have a problem, while feeling comfort in knowing we are here to help." Her co-worker, Eboni says that through her role she has had the opportunity to grow and learn many new things.
HR Coordinators
The role of HR Coordinator works closely with the HR Director and entire department to ensure that everything is running smoothly. They assist with key HR functions such as onboarding and administrative duties and collaborate with the entire department. HR Coordinator, Jonnae, says she loves the team she works with. "We are all open to new things. We have our different challenges, but overall we all know how to come together as a team with a plan to have a better outcome."
Worker's Compensation
Worker's Compensation Specialists develop and implement the policies and procedures that are in line with laws such as the American Disabilities Act and the Family Medical Leave Act. When employees have an injury or illness on the job, it's their responsibility to handle claims quickly and fairly. Here at Favorite, Worker's Compensation handles claims for both our healthcare professionals and internal employees. Anita, Worker's Comp Specialist at Favorite, describes herself as a caring and understanding person. The most rewarding part of her job is the ability to help injured employees get back to work, which is why she loves her role.
Clinical Liaison
A Clinical Liaison is responsible for handling any issues when it comes to licensure, maintaining professional relationships with healthcare providers, and ensuring health records are up to date. Favorite's Clinical Business Partner, Susan, RN, BSN, explains that the most rewarding aspect of her job is supporting healthcare professionals as they navigate difficult situations. "Even though I am no longer at the bedside, it is a pleasure to use my many years of nursing expertise to positively impact the lives of others."
Unemployment
Among the many tasks that HR juggles, Unemployment is another sector that falls within their realm. People who work in this area handle any post-employment claims. We asked our Unemployment Specialist, Valerie, what the most rewarding part of her job is and she says, "Even though my main task is Unemployment, Human Resources' overall goal is to provide everyone with the best customer service experience that we can. It's a great feeling when you have helped someone and contributed to their happiness, wellbeing and satisfaction."
Talent Acquisition
The main responsibility of Talent Acquisition professionals is to attract, hire, develop, and retain employees. Since the start of the COVID-19 pandemic, our Talent Acquisition team has faced challenges when it comes to hiring new talent and combating the "great resignation". This group has worked hard to adopt and develop new strategies to fill openings as Favorite continues to grow. Talent is essential to every company, so this is a critical role on our HR team. We asked Reshia, Talent Acquisition Partner, a word she would use to describe her position and she said, "Relatability—I love finding something to talk about with candidates that aligns with the role they are interviewing for. Making sure candidates are aware of what a position entails and being honest when answering any question they have is key."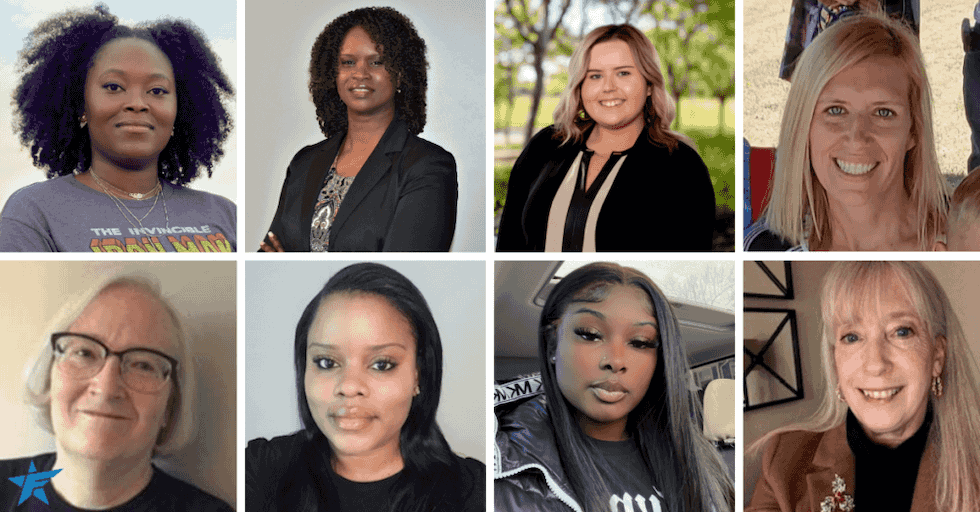 From left to right: Eboni, HR Generalist; Kristel, Director of Human Resources; Sierra, HR Generalist; Sherri, HR Generalist; Anita, Worker's Comp Specialist; Reshia, Talent Acquisition Partner; Jonnae, HR Coordinator; Susan, Clinical Business Partner
As we recognize our HR team here at Favorite this week, we encourage everyone to thank your HR team as well. Healthcare HR Week brings attention to the continued hard work and dedication HR professionals provide, whether they work in hospitals, clinics, or offices. Happy Healthcare Human Resources Week!