Favorite Healthcare Staffing has staffed thousands of nurses and healthcare professionals around the country for the past 40 years! Favorite has a variety of placement opportunities, including, per diem, local and travel contracts, and permanent and temp-to-perm placement.
We are excited to continue Favorite's 40th anniversary celebrations all year long. This month, we are shining the spotlight on more of our healthcare professionals whom we believe have been a huge part of Favorite's journey!
Meet our next #FavoriteFamilyFeature! Virginia is in the Emergency Department and has been working with Favorite since the beginning of the COVID-19 pandemic.
Who or what inspired you to pursue your profession?
Being the eldest daughter in a family of 12, I have always been the caregiver in the family. I think I have wanted to be a nurse since I was a little girl.
What is your favorite memory from working with us?
The people at the healthcare facility I worked at gave me a surprise going away party with a beautiful card and gift basket signed by all the staff and a few residents.
In what ways has healthcare changed throughout your career?
Nursing has changed so much since 1989 when I got my degree. One of the ways I have noticed is the value and respect of a nurse seems much greater now.
What is one piece of advice you would give to your younger self in this field? 
The advice I would give my younger self is to always live your life with courageous authenticity. Do not allow fear to prevent you from expressing your ideas. Be true to yourself and your beliefs. Also, do not be hard on yourself. We all must crawl before we walk!
How have your patients inspired you?
Nursing has taught me gratitude and humility. There are so many ways healthcare can go sideways each day. The fact that we wake each day to tackle challenges is nothing short of amazing. Everyday I am thankful not only for my own health and well-being but for the well-being of my loved ones.
What do you find most rewarding about your job?
Being able to connect with patients at such an intimate level. To be there for them under often difficult circumstances, being present when people face certain health challenges or injuries, witnessing the moment of birth or the end of life, we get to know our patients very quickly and could play an important role in their lives.
What keeps you motivated when times are tough?
My greatest motivation when times are tough would be my son and daughter. They have always been my strength and motivation. And the love and support of a wonderful man who I am happy to say will be my husband on September 21, 2021!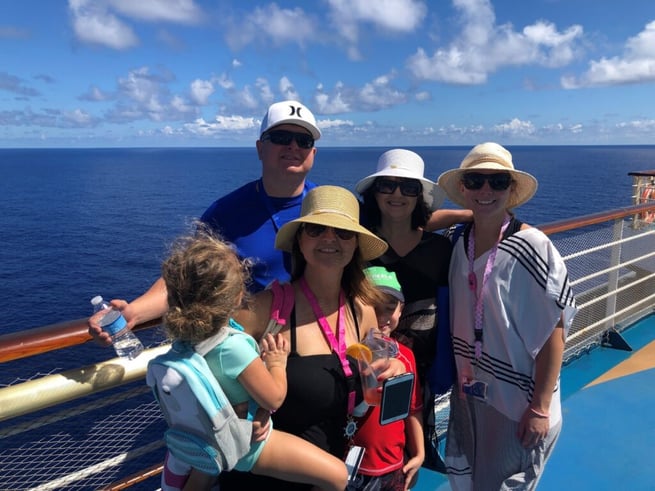 How do you see the future of healthcare?
While disease will never be eliminated, through science, date, and technology, we will be able to identify it earlier, interview proactively and better understand its progression to help patients more effectively.
What skills do you think are important to possess to be successful in your profession?
Caring, compassion, good communication skills, empathy, a good problem solver, stamina, and a good sense of humor!
Tell us what makes you unique! What do you enjoy doing outside of work? Any hobbies or interests?
I find it easy to relate to others. I treat my patients the way I would want my own family to be treated. I am an excellent grandma (so I'm told). My favorite thing to do is watch my grandchildren excel in sports!
What three traits define you?
Warmhearted, persistent, and sincere!
What are the biggest lessons you have learned whole working during the COVID-19 pandemic (personally, professionally, etc)?
After losing my kids' dad to COVID-19 this winter, COVID became more real to me. It's no longer just something that happens to others. I can honestly feel the pain and heartache of the families who have lost loved ones to the disease.
Want to learn more about our job opportunities? Stay updated with our healthcare blog and make sure to follow us on Facebook, Instagram, and LinkedIn!