Now that Favorite Healthcare Staffing has launched our innovative look and website, we want to celebrate it! Favorite employees are excited about our new logo, which we have started calling the F-STAR.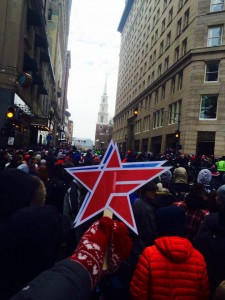 Follow us on Facebook to see the F-STAR around other Favorite branches and cites. Our creative and fun F-STAR represents our brand, at Favorite we're your advocate, we're your family and we're your Favorite.
Not only did we get a new logo — as you can probably see — we have a new site as well! Since our company is always growing and improving we thought we'd update our site too!
One of our favorite aspects of the site redesign is the testimonials that act as gateways to each section for the positions we staff. You'll see testimonials for a travel nurse, per diem, direct hire and volunteer and on these pages you'll also find more information on how to get started in one of these great positions.
It's now super easy for candidates to apply with our new quick application form. Candidates can enter their names, professions, experience and email or phone numbers, making contact with Favorite easier than ever!
We've also added a contest section to our new site! Check back frequently for your chance to win exciting prizes.
All of us here at Favorite hope the new site is easier to use, so take a look at it and let us know what you think!