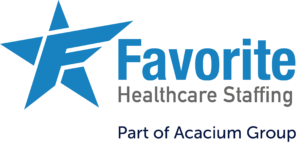 Favorite Healthcare Staffing is pleased to announce that Acacium Group, Europe's leading healthcare solutions provider, has acquired the business. Through this partnership, Acacium Group becomes the first global healthcare staffing and workforce solutions specialist with operations in the US, Europe, and Australia.

Favorite now has access to Acacium Group's resources and capabilities, which will enable Favorite to provide a broader service offering and enhance our client relationships. Chris Brink, Favorite's President, says, "We are thrilled to join Acacium Group. Together we will bring the best of our experience and deliver innovative staffing and workforce solutions to our clients. We are excited about the market reach and access to expertise that the combination of our two companies will create."
You can learn more about Acacium Group here and read the full press release on the acquisition here.