Nurses have been in high demand for years, but due to the complex compact nursing license process, a nurse may find themselves limited in where and how long they can work. Fortunately for nurses, the Nurse Licensure Compact (NLC) was introduced as a way to make things much easier for healthcare professionals who want to practice across state lines. Let's take a closer look at what the NLC is and how it affects nurses.
What is a compact state nursing license?
A large number of states within the US participate in an agreement called the Nurse Licensure Compact (NLC), originally introduced in 2000, that allows licensed nurses to practice in other states without a state-specific license. The states that participate in the NLC agreement, now known as the Enhanced Nursing Licensure Compact (eNLC), offer nurses the opportunity to hold a single state license or a compact state license. A compact state license is also known as a "multistate license." Both terms mean the same thing and are used interchangeably to reference the eNLC.
The biggest benefit of the eNLC as a travel nurse is convenience—you don't have to spend extra time and money applying for individual state licenses in each place you want to work. Not only does this mean that nurses can easily move from job-to-job without having to worry about obtaining new licenses, but it also makes it quicker for hospitals and medical facilities to hire qualified personnel from out-of-state locations. This agreement has resulted in better access to quality healthcare professionals across all member states, making it highly beneficial for both patients and healthcare providers.
Another great benefit of the eNLC is that it creates uniformity across all participating states' nursing regulations by setting certain standards that all states adhere to. This ensures that all members are held accountable no matter which state they happen to be working in.
It's important to note that for a nurse's license to be considered valid under the eNLC, it must be issued by one of the participating states. Only nurses who declare a compact state as their primary state of residence may be eligible for a multistate license. Also, some participating states may have additional requirements, such as criminal background checks or proof of residency, before they allow a nurse with an eNLC license to practice within their borders. So, it's important to check with the state board of nursing before traveling across state lines for work.
What are the compact nursing states?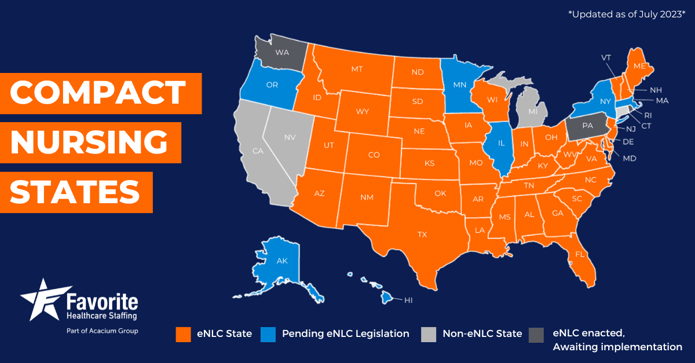 eNLC States
| | | |
| --- | --- | --- |
| Alabama | Maine | South Carolina |
| Arizona | Maryland | South Dakota |
| Arkansas | Mississippi | Tennessee |
| Colorado | Missouri | Texas |
| Delaware | Montana | Utah |
| Florida | Nebraska | Vermont |
| Georgia | New Hampshire | Virginia |
| Idaho | New Jersey | West Virginia |
| Indiana | New Mexico | Wisconsin |
| Iowa | North Carolina | Wyoming |
| Kansas | North Dakota | |
| Kentucky | Ohio | |
| Louisiana | Oklahoma | |
States Awaiting Implementation
While the NLC has been enacted in the states below, an implementation process must be completed before its residents will be able to apply for a multistate license. The implementation dates have not yet been determined.
Pennsylvania

Rhode Island

Washington
States with Pending eNLC Legislation
Several states are currently in the process of joining the eNLC but need pending legislation to pass before they can become a compact nursing state. The following states have pending legislation:
Alaska

Hawaii

Illinois

Massachusetts

Minnesota

New York

Oregon
California, Connecticut, Nevada, Michigan, and Washington D.C. are not compact states and do not currently have any pending legislation to join the eNLC.
How does the Nurse Licensure Compact impact travel nurses?
So, you might be wondering, "Why is the eNLC important for travel nurses?" According to the National Council of State Boards of Nursing (NCSBN), travel nurses should note: "When a nurse is on a travel assignment at a facility and the nurse who holds a multistate license has a primary state of legal residence in the compact home state, that nurse can practice in the remote compact state under the multistate privilege to practice as long as the nurse maintains legal residence status in the home state."
Travel nurses who are eligible for a multistate license will save time, money and stress. As a travel nurse, you may move across multiple states for work. Before the Compact State Nursing License came into effect, nurses had to get a license for each state they worked in. This is not only time consuming but is also costly. The eNLC enables travel nurses to obtain one license and avoid paying extra application and verification fees. This agreement also creates a more seamless process for travel nurses. With a valid compact license, nurses can start practicing immediately in other compact nursing states, which can eliminate some of the stress of having to quickly line up another travel contract after a current assignment ends.
Quick Facts
Registered Nurses (RNs) and Licensed Practical Nurses/Licensed Vocational Nurses (LPNs/LVNs) who meet the uniform licensure requirements are eligible for a multi-state license in eNLC states.

Learn more about Uniform Licensure Requirements here

The eNLC allows nurses to easily practice across borders in other compact states

This makes it easier for nurses to quickly respond and practice nursing during natural disasters in other eNLC states.

Over two million nurses live in eNLC states and are able to provide care in other eNLC states.
Only nurses who declare a compact state as their primary state of residence may be eligible for a multistate license.
With a multi-state license, nurses can also practice telehealth in all eNLC states.
Easily check whether your license is "multistate" or "single state" using the Nursys® QuickConfirm tool at www.nursys.com.
For the nurse looking for more flexibility and freedom when it comes to where they work, the Enhanced Nurse Licensure Compact provides an ideal solution. By obtaining a compact state nursing license, you can experience greater opportunities within your profession while still ensuring quality care for patients everywhere. All in all, this agreement has revolutionized healthcare by making cross-border travel nursing simpler than ever before.
Interested in travel nursing? Favorite has travel opportunities across the country. Take a look at our open travel nursing jobs and start exploring the country today!
You May Also Like:
The Best Place for Travel Nurses
Top 5 Budgeting Tips for Travel Nurses
Sources:
https://www.ncsbn.org/public-files/NLC_Fast_Facts.pdf
https://www.ncsbn.org/public-files/2018CNOFactsheetFINAL.pdf